Key Points:
--If you learn to use the trains, your riding territory expands dramatically. As long as you avoid rush hour commuter trains, the odds are very, very high that you will have a good experience and an on-time arrival. It is a great feeling to escape from the summer heat, ride through mountains to a distant part of Japan, and hop a fast train home, enjoying cold beers and snacks and being deposited back in Tokyo before you know it.
--Get a "bike bag" as discussed below. These are available at just about any "sports bike" shop mentioned on our
Bike Shops and Rental Bikes
page (other than some of the more useless "concept stores" sponsored by frame manufacturers), and you can also find bike bags at the bicycle section of some general stores -- Bic Camera in Yurakucho, central Tokyo, for example.
________________________________________________________
If somebody goes from A to B in greater Tokyo, chances are biggest that he will use a train. 3.7 billion passenger per year are travelling the 13 lines of the Tokyo metro system (
Metro
and Toei), and that doesn't even include National Japanese Railway (JR East) and a handful of private operators such as Keikyu, Keio, Seibu, Tokyu, Tobu and Odakyu lines that are layered over each other in a marvelously complex and bewildering train system that is the densest in the world. A brief and useful introduction to the transportation network is provided by Japan Reference.
Railways are very efficient in Japan: On time, frequent, clean and fast. And they must be, as otherwise the huge movement of people to and from work couldn't be handled. The best thing is that you take your packed bike with you on the train so that you can escape riding through the boring urban landscape and start your ride at the periphery of the metropolis.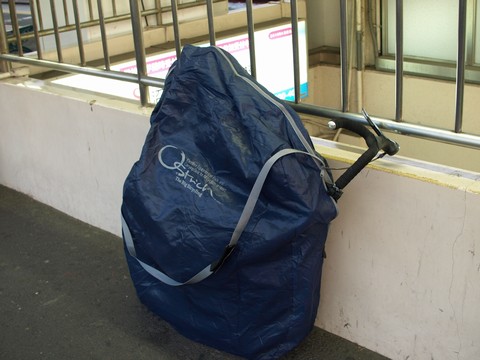 PACKING YOUR BIKE
The most important thing you need to know is that you can take your bike on any train, regardless of subway, JR or private operator but it must be packed with a special bike bag. And the second thing you need to know is that you are generally not required to pay additional fees for the transport of your bike.
Now, let's start with the packing: In theory your road bike should be packed such that you remove front and rear wheel and put your bike into a special plastic bag so that it is fully enclosed. There are special bike bags for sales in Japan, for example by Ostrich-az or Mont Bell , which are of good quality and last for a long time. Different types are available, heavy duty ones and lighter ones which you can fit into the back pockets of your jersey or into the bottle holders. The later ones can also come equipped with pockets to accept your wheels and protectors for the rear derailleur or the front fork.
On Rakuten is a long list of available types in Japan which can be ordered online. There is also an interesting thread on TCC about this issue which highlights several opinions what is possible and what perhaps not to take on trains. One of the cheapest solutions is an ultra light bag which does cover only part of the bike by Tioga.
I recommend the lightest weight, simplest "Ostrich" brand version -- it stows easily into one of your bottle holders or in a larger Topeak under-seat bag along with spare tubes, etc. when not in use, and allows you to easily carry the bag with bike in it some distance using a shoulder strap. Just follow the instructions (or watch someone else) the first time you pack your bike. The extra pockets for wheels, derailleur protectors, heavier material, etc., just add weight, take longer to put the bike in and out, and are not needed if you are reasonably careful. (Always clip your wheel to your frame with the cassette facing outward. Otherwise, you can get a bad scratch if the wheel shifts. Always be careful not to bend the derailleur hanger when you set the bag down).
The only disadvantage we can think of is, that it is difficult to accommodate frames of 520 mm and more into the bags so that the handle bar is uncovered – but don't worry this is without consequences for your train ride.
Despite the fact that the Japanese Railway Operator Association has issued posters recently
where they demand that bicycles are fully covered in special bags, the reality is that you are normally not stopped when you take a "half-covered" bike on a train. That might change in the future, but there is virtually no risk today to be barred from the train ride. In case, for example, you are surprised by heavy rainfalls or you have a mechanical problem, you can also go to the next supermarket, buy some 50 liter garbage bags and duct tape and improvise a packing. Sometimes we were even allowed with unpacked bikes on the train when we promised that we would pack them during the ride.
We believe that rather than proper packing, you should show that you made a real effort to pack your bike – that's enough.
TRANSPORTING YOUR BIKE
Once you have packed your bike and await the arrival of the train at the platform, there is the strategic question where to ride on the train. Typically, there are three types of trains which are different in terms of where to stand or sit. The typical subway or short distance commuter train which are most common, have one line of seats on each side arranged parallel to the windows. Most of these trains have either open pass ways between the carriages, or doors separating them. In these trains it is best, to enter the first or last car and utilize the wall to the drivers cabin as a secure point for the bike.
You can also fix your bike with straps to the handrail at the wall and sit some distance away. Some cars have special places for wheel chairs or prams and you can utilize these spaces in the same manner—being ready, of course, to move the bike if one of the intended users does board the train!
If you cannot access the first or last car, the second best choice is to park your bike at the right or left side of the entrance of a car as there is always a small recess between the door and the guardrails separating the seats from the doors. If you are lucky you can sit on the seat next to the entrance and secure your bikes with your hand. Thereby you are not interfering with the in- and out flux of passengers into the car.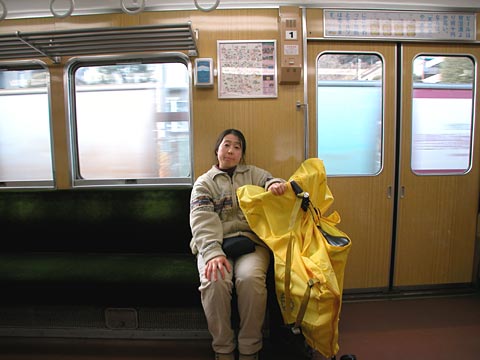 If all of this is not possible, the last option is to sit anywhere on one of the seats and keep your bike secured between your legs, but as it will protrude into the space between the seats where people go to the exits, you might cause some trouble. Or you stand with the bike in the middle between the seat lines; if possible just in the middle between the exits as there the number of movements will be the lowest.
Long distance trains and special express trains have often a different seating layout: Seats are arranged in open compartments of four seats on each side of the train. Here it is often impossible to park a bike, so ether getting on the first or last cars, or staying in the area of the entrances is a good idea.
Last, you can also take your bike on Shinkansen (bullet) trains without paying an extra fee. Shinkansen have 20 rows of seats arranged in two seats on one, and three seats on the other side of the center gangway (2nd class). The seats are always facing into the driving direction. You may encounter a similar pattern also on other express trains. In this case you have two options to store your bike: There is space behind the last row of seats in the car on each side.
Sometimes the backrest is inclined to the maximum so that it seems that there is not enough space available. In this case you can either readjust the backrest by yourself if nobody is sitting there, or you can ask the person sitting there to move it.
It is best to stay as close to your beloved bike as possible, so you might want to sit in the last row – you can make a reservation for that. But careful: Shinkansen are always riding in the same direction, they are never turned around, and only the direction of the seats is changed! So when you ride in a Shinkansen from Tokyo to Nagoya, the first car will be car number 1, followed by car number 2 and so on until car number 15. And the seat numbers in each car start at the front end with 1 until the last row of seats with number 20. In this case you would like to make a reservation for a seat in row 20. If you are travelling from Nagoya to Tokyo, it is just the opposite. The first car of the train is car number 15 and the last one is car number 1. And the front seat row is row number 20 and the last one is row number 1. In this case you need to make a reservation for row number 1 obviously.
If there is no space available in the main compartment, you can park your bike also at the entrance doors in the area before or after the seat compartment. In this case it is advisable to stay with your bike. Not because there is a high risk that it will get stolen, but because the area is quite tight and you mind block the exit doors on one side. As you might get called by the conductor as they are nervous about "unaccompanied baggage" in these terrorist days, better stay there for short trips.
Trains can become quite crowded in Japan and it can become an absolute nightmare to be with your bike in a train that slowly fills up to 200% capacity as it is passing from one station to another. Although it is not expressing forbidden to ride with your bike bag on such trains, you will not enjoy. So it is a good idea to check out the trains first, especially in the morning between 7 and 9 and in the evening between 5 and 8 before you enter with your bike. The same can suddenly happen during holiday season in the Golden week (end April- May), Obon (August) or New Year vacations.
And as some Japanese men cannot keep their hands in their own pockets, many Japanese railways have introduced women-only cars in the morning hours before 9 AM, so if you are male, please make sure not to enter these cars which are normally marked by some stickers in pink colors.
OTHER TRANSPORT AND OBSTACLES
Just as in case of trains, you can also take your bagged bike on city buses, ferries and domestic flights. City buses might have not enough space to accommodate your bike so you should not fully rely on them. Ferries, for example the one connecting Miura peninsular with Chiba, are requiring paying an extra fee for the bike. And airlines do allow bikes within the standard weight limits (normally 20 kg) and in addition you must sign a waiver freeing the airline from any responsibility for damage. This may sound harsh, but we have countless times transported our bikes with standard bike bags on domestic and international flights and never had a problem. You also will be required to deflate your tires and you cannot take any CO2 cartridges with you so better have a hand pump with you.
The transportation system is like a well-oiled gear where thousands of cogs are turning in synchronized movements. However, if suddenly some of the cogs stop moving, the systems breaks down very fast. The consequences: Major train delays or cancellations and almost no alternative means of transportation. OK, you will have your bike so you have some advantage. So when can this happen?
Earthquakes. Typhoons. Poison gas attacks (OK, so far only one in 1995). Tsunami. Heavy snowfalls. Train accidents. These things happen from time to time and they can leave you stranded in the countryside or delayed. Most common are suicides (always announced as an "accident with damage to persons") and accidents at railway crossings. These can cause an hour or more delay (and result in a large invoice being presented to the family of the suicide for the inconvenience, clean up, etc.!).
If there is a serious delay such as a major earthquake and you are far away from home, look for accommodation first – because within short time there will be no hotel room left. Look for food and drinks second – again, if it is serious there will be nothing left either. This is just common sense -- the same thing you would do if you were waiting to transfer planes at JFK airport in New York when the word came in that the airport was shutting all the runways due to a snowstorm or hurricane. At least in Japan, there will usually be detailed announcements of what is going on ... in Japanese.
In the worst case, you cannot rely on the mobile phone system, nor on your bank card or credit card to withdraw money from ATMs so good to carry somee extra cash. Be prepared for these extreme conditions Of course, after the March 11, 2011 earthquake, just about the only people who could return home easily ... were those of us on bicycles!